Recently, myself and another PhD Student in the ICON Science lab attended an event at the MPavillion initiative. The MPavillion is an annual celebration of architecture and design in Melbourne, coordinated by the Urban Design Forum. Specifically, it focuses on creative collaboration for community art and wellbeing. Each year since its inception in 2014, the Naomi Milgrom Foundation has contracted a brilliant new architecture group to design a pavilion for the event in Melbourne's Queen Victoria Gardens. This year's colourful and intricate pavillion was created by all(zone) architects, led by Rachaporn Choochuey.
The event we attended ('Practical Solutions for Regenerating Natural Systems in Our Cities') was appealing to both of us considering the importance of urban nature in the ICON Science lab. It also relied on the collaboration of our different educational backgrounds: biodiversity, architecture, and urban planning, to brainstorm Nature-based Solutions (Cohen-Shacham et al., 2016) for the city.
These can be defined as:
"…actions to protect, sustainably manage and restore natural and modified ecosystems in ways that address societal challenges effectively and adaptively, to provide both human well-being and biodiversity benefits"

(IUCN, 2016).
Examples might include socially inclusive green corridors between city parks, habitat analogues in the built form, or restored sections of the Birrarung (Yarra River).
The global rise of Nature-based Solutions (NbS) since the mid-2000's (Somarakis et al., 2019) reflects a paradigm shift in the way we think about city space and those urban myths that divide humans from nature. How communities might adapt to the increasing challenges of climate-exacerbated disasters, like flooding, is also an integral part of this puzzle that surfaced throughout discussions.
The workshops:
Following introductions from a panel of experts in the field, we were split into collaborative workshop groups to discuss the actors, barriers, and opportunities to urban challenges across 5 different subthemes. We chose to join the group facilitated by Alexander Felson (a landscape architect and senior certified ecologist) because of his focus on bridging river ecology, climate adaptation and urban design. However, it was hard to choose because all the topics had novel, forthcoming ideas. Charity Mosienyane, for example, is the Lead Convenor of the Swimmable Birrarung project (an effort to make the lower reaches of the Birrarung or 'Yarra' swimmable by 2030). Sarah Hicks and Claire Martin also lead engaging themes on Governance and Regenerative design for more inclusive urban-river spaces.
Some of the themes that groups discussed are featured below:
Dissolving the 'humans vs nature' narrative:
Many workshop discussions advocated for the idea of dissolving the physical and mental separation of people from nature. Surprisingly, several were onboard with reconnecting or re-establishing the ecology and hydrology of the land. Reducing the dominance of cars or road infrastructure in our city spaces was very much linked to this idea. A few even suggested that increasing our interactions with the river might increase our care for it, as proposed by the 'extinction of experience' concept (Soga and Gaston, 2016; Colléony et al., 2020). Others opted that we might overcome this disconnect if the river had rights as a legal entity as in New Zealand and Ecuador, and if ecological individuals such as the platypuses, Eels, or 'seal that visits some times' ('Salvatore') were considered as residents in governance decisions. Unfortunately, our group did not come up with the 'Dan Andrews in speedos' suggestion (below), but who's to say that our politicians would not benefit from reconnecting with the river in that way?
Respecting the significance and value of indigenous land-water connections:
A note (below) mentions the 'inherited systems' that position the land and water as 'obstructions of extraction' and this speaks to the need to consider the consequences of the colonial culture that invaded this land, drained its wetlands, channelised its rivers and converted its forests and grasslands into farmland. Foremost, this invasion is horrific based on what was done to indigenous people and their connection to culture and Country. By extension, it reinforced an extractive cultural mindset in further 'development' of the land – leaving the city's division of roads, parks and pavement as we see it today. This mindset lacked the knowledge and connection that indigenous people have cultivated with the river, the flora and fauna, and the seasons of Country over tens-of-thousands of years.
Modern Narrm (Melbourne) can certainly learn a lot from indigenous people's land-water connections as they endure today. The freshwater eels or 'Luk' (discussed in a few workshop groups) are a renowned symbol of endurance for the peoples of the Kulin Nation. Their continued migration in the drains and pipes of the CBD remind us of a very different landscape, where Bouverie Street and Elisabeth Street used to exist as Bouverie Creek and Elizbeth Street watercourse – before development subverted them underground. In March when 'temperatures drop, manna gums flower and days and nights become equal length,' the banks of the Birrarung become muddy, and the Luk migrate downstream towards the sea. They are just one of several important flora and fauna that mark the seven seasons of the Wurundjeri calendar, signifying times to harvest, times when riverbanks and wetlands need to flood and times when nature needs to recover.
By contrast, the channelisation of the river to build houses or roads along it, or the draining of a wetlands to plow land, are rigid solutions to flooding or food production. They are short-term solutions that do not enable an adaptation to rising sea-levels or increased flood events with climate change (IPCC, 2022; Visser et al., 2022). If the river is primarily for boats or to be wedged between roads, we do not allow for the coexistence of species sensitive to noise, light or physical disturbance (e.g., species we saw return to cities during lockdown). Neither do we allow for those species that are dependent on the natural flooding of its banks (Greet et al., 2022), or the ecosystem services of meandering floodplains to absorb and slow floodwaters. Reconsidering our integration into the land might mean considering the larger natural processes of flood regimes, not building on floodplains, or designing 'integrated water management' that to reduces onsite threats to these natural systems. These are all concepts that state government, planners and policymakers need to consider to create a less extractive and more synergetic relationship between people and Country.
Facilitating interdisciplinary collaborations for multifunctional spaces:
Ultimately, Nature-based solutions highlight the value of collaborating with across demographics and disciplines for holistic solutions to city demands with multidisciplinary benefits for all. Through collaborative governance and policy that considers an inclusive and holistic urban design, community actors have the potential to create positive human-river and human-nature-connections.
Floodable parks, for example, can create space for people to exercise, relax and cool down (Choe et al., 2020; Pouso et al., 2021), while absorbing flows of water during flood events (Nguyen et al., 2021), and improving air quality (da Silva et al., 2022) or ecological health (Walsh et al., 2016). By simply adding bike paths for active transport into that floodable park, a space typically used for pavement or road infrastructure can become hugely more efficient and accessible to all.
In an even further step, a Swimmable Birrarung by 2030 could recover a recreational space for human-nature interactions. It calls into question the relationship we have culturally accepted between the river and ourselves.
Swimming in the Birrarung is not something most people think about doing in Melbourne but,
if the river were cleaner, would you go for a dip?
What do you think cities should look like?
What might human-nature interactions look like if we planned spaces differently?…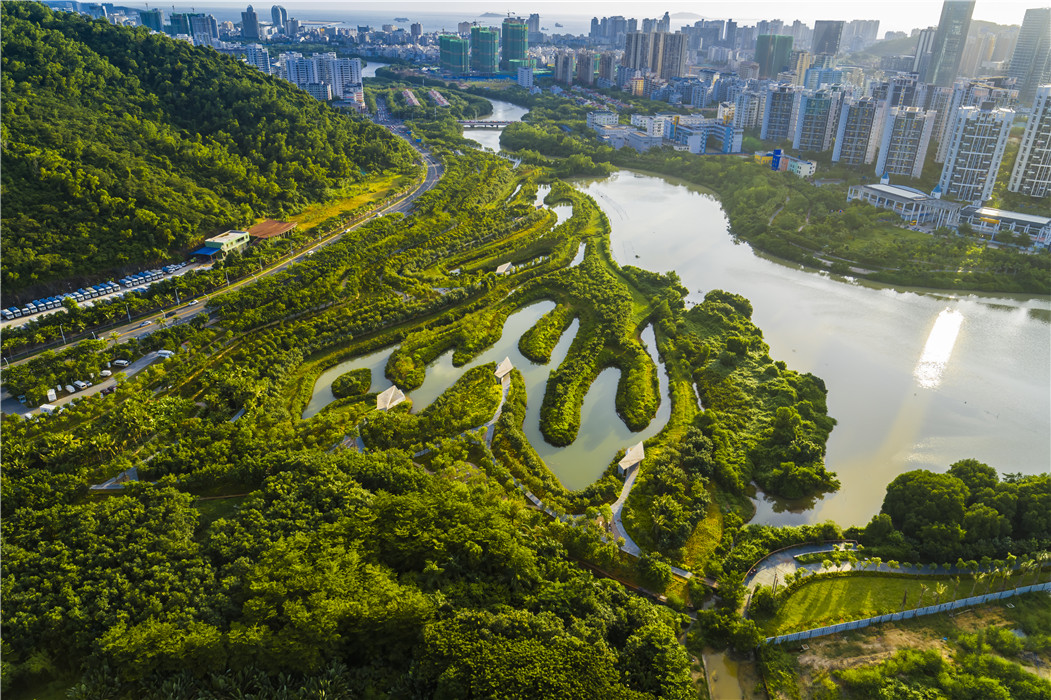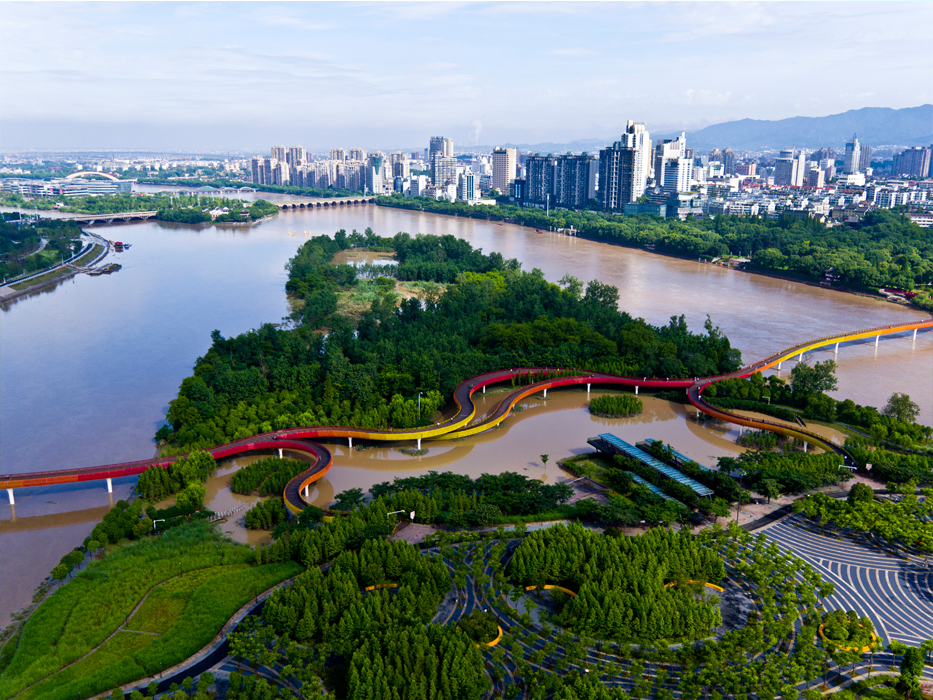 China's Sponge cities are designed to flood and to be accessible in both the dry season (above left) and wet season (above right).
Source: Turenscape.
Acknowledgements:
A kind thank you to the MPavillion and Urban Design Forum for organising the event and providing us with photos from the night.
Works Cited:
Choe, E.Y., Kenyon, A., Sharp, L., 2020. Designing blue green infrastructure (BGI) for water management, human health, and wellbeing : summary of evidence and principles for design [WWW Document]. URL https://www.sheffield.ac.uk/usp/news/designing-blue-green-infrastructure-water-management-human-health-and-wellbeing (accessed 5.8.23).
Cohen-Shacham, E., Walters, G., Janzen, C., Maginnis, S. (Eds.), 2016. Nature-based solutions to address global societal challenges. IUCN International Union for Conservation of Nature. https://doi.org/10.2305/IUCN.CH.2016.13.en
Colléony, A., Cohen-Seffer, R., Shwartz, A., 2020. Unpacking the causes and consequences of the extinction of experience. Biological Conservation 251, 108788. https://doi.org/10.1016/j.biocon.2020.108788
da Silva, L.P., da Fonseca, M.N., de Moura, E.N., de Souza, F.T., 2022. Ecosystems Services and Green Infrastructure for Respiratory Health Protection: A Data Science Approach for Paraná, Brazil. Sustainability (Switzerland) 14. https://doi.org/10.3390/su14031835
Greet, J., Fischer, S., Walsh, C.J., Sammonds, M.J., Catford, J.A., 2022. Restored river-floodplain connectivity promotes riparian tree maintenance and recruitment. Forest Ecology and Management 506, 119952. https://doi.org/10.1016/j.foreco.2021.119952
IPCC, 2022. Climate Change 2022: Mitigation of Climate Change. Contribution of Working Group III to the Sixth Assessment Report of the Intergovernmental Panel on Climate Change. Cambridge University Press, Cambridge, UK and New York, NY, USA. https://doi.org/10.1017/9781009157926
Nguyen, T.T., Meurk, C., Benavidez, R., Jackson, B., Pahlow, M., 2021. The effect of blue‐green infrastructure on habitat connectivity and biodiversity: A case study in the Ōtākaro/avon river catchment in christchurch, new zealand. Sustainability (Switzerland) 13. https://doi.org/10.3390/su13126732
Pouso, S., Borja, Á., Fleming, L.E., Gómez-Baggethun, E., White, M.P., Uyarra, M.C., 2021. Contact with blue-green spaces during the COVID-19 pandemic lockdown beneficial for mental health. Science of The Total Environment 756, 143984. https://doi.org/10.1016/j.scitotenv.2020.143984
Soga, M., Gaston, K.J., 2016. Extinction of experience: the loss of human–nature interactions. Frontiers in Ecology and the Environment 14, 94–101. https://doi.org/10.1002/fee.1225
Somarakis, Stagakis, Chyrsoulakis, 2019. ThinkNature Nature-Based Solutions Handbook. ThinkNature project funded by the EU Horizon 2020 research and innovation programme under grant agreement No. 730338. https://doi.org/10.26225/ jerv-w202
Visser, J.B., Kim, S., Wasko, C., Nathan, R., Sharma, A., 2022. The Impact of Climate Change on Operational Probable Maximum Precipitation Estimates. Water Resources Research 58, e2022WR032247. https://doi.org/10.1029/2022WR032247
Walsh, C.J., Booth, D.B., Burns, M.J., Fletcher, T.D., Hale, R.L., Hoang, L.N., Livingston, G., Rippy, M.A., Roy, A.H., Scoggins, M., Wallace, A., 2016. Principles for urban stormwater management to protect stream ecosystems. Freshwater Science 35, 398–411. https://doi.org/10.1086/685284